How I Bought A Website For $3700 And In 4 Months Increased The Revenue By 860% Without Spending A Dime Or Doing Any SEO…And Then Sold The Site For Over $30k.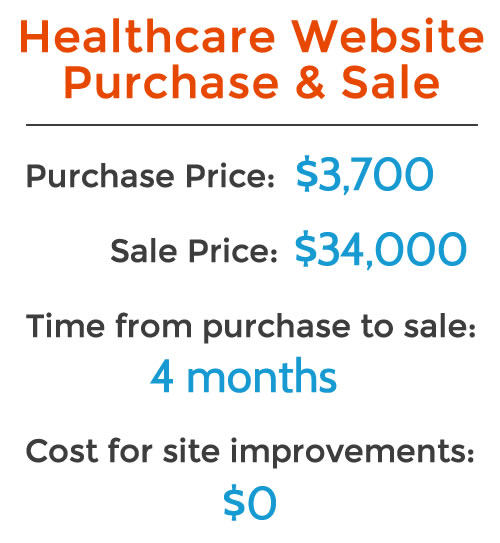 So many times website owners have complained to me that they don't know SEO and they struggle increasing the traffic to their websites so the website flipping methods I teach won't work for them.
I recognize that SEO can be difficult and take time (but can easily be learned if you want to know how to do it) so I set out to prove that I could buy a website that had traffic, and without doing any SEO or website promotion I could increase the revenue significantly.
Check out this website flipping case study:
Using the prospecting method I invented I went out looking to find a website to buy. I was looking in the healthcare education leads niche.
I found a site that fit several of the important criteria I was looking for.
– It already had good traffic.
– It was making some money but not a lot.
– The site was not converting well.
– It was already set up to get education leads.
I look for websites that match these criteria because I know I can make quick changes that will have a positive impact on the revenue of the website.
So I emailed the owner and negotiated the purchase of the website. It really is amazing how many website owners are ready and willing to sell their websites if someone simply approaches them and asks.
I assume this is because most people that start and run websites are serial entrepreneurs and they get bored quickly and like moving on to other projects.
As soon as I found out the owner of the website was willing to sell I asked the appropriate questions and we got into the numbers of the website.
The 2 big numbers I cared about was unique visitors to the site each month, and total revenue each month.
The site owner gave me access to Google analytics and I was able to verify that the website was getting about 4,000 unique visitors each month.
He also told me that the site was making $208 each month which with that much traffic I had no reason to doubt him. In fact just running some quick numbers I was able to see that each visitor was worth $0.05 per visitor.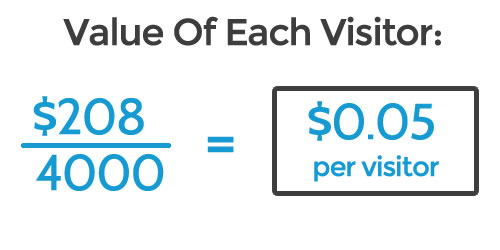 Because I have experience in this industry and had run a website that had a value of over $1.00 per visitor I knew that this website had a ton of potential to make things happen quickly.
Because of this I had no problem offering the website owner an 18 month multiple (monthly revenue x 18 months). I usually don't go that high unless I see a ton of potential in a website.
Here is the data from the website: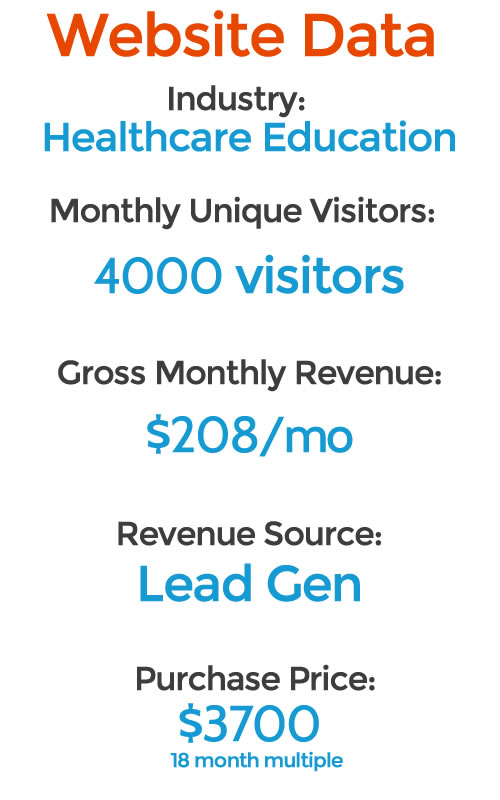 So I purchased the website for $3700. Here is what the homepage looked like when I got it. It wasn't a terrible design but it didn't drive the visitors to do what I wanted them to do.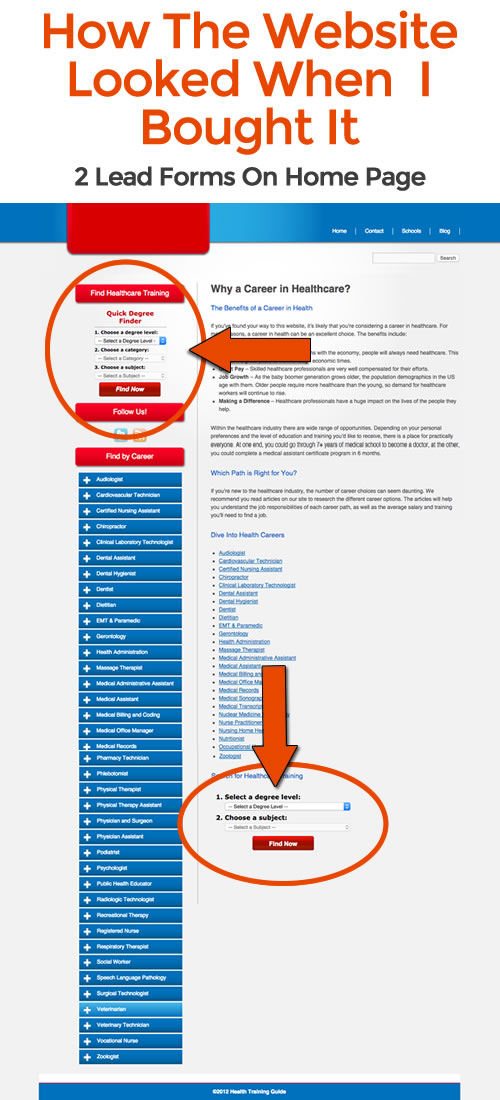 How This Website Makes Money
The way that this website makes money is it collects leads for schools that offer healthcare education programs. The owner of the website had signed up with a company that has agreements with all of the schools. The website owner put "Request Info" forms on the site and sent leads to this company.
So a visitor to the website would come and see the form on the bottom of the page or over in the left hand navigation as shown in the screenshot above and they could request information from different schools.
Anytime a visitor to the website requested information from a school the owner of the website would get paid a small commission usually between $15-$30.
I had used this same monetization method with other sites in this industry and I knew it was the best way to monetize the site so I had no plans to change it. I did however use a different company that I already had a relationship with that also had agreements with all of the schools, Quinstreet.
As soon as I got control of the site I immediately made 2 very quick tweaks to the website. These changes took me literally 30 minutes to an hour to get set up.
Tweak #1: Moved The Lead Form Above The Fold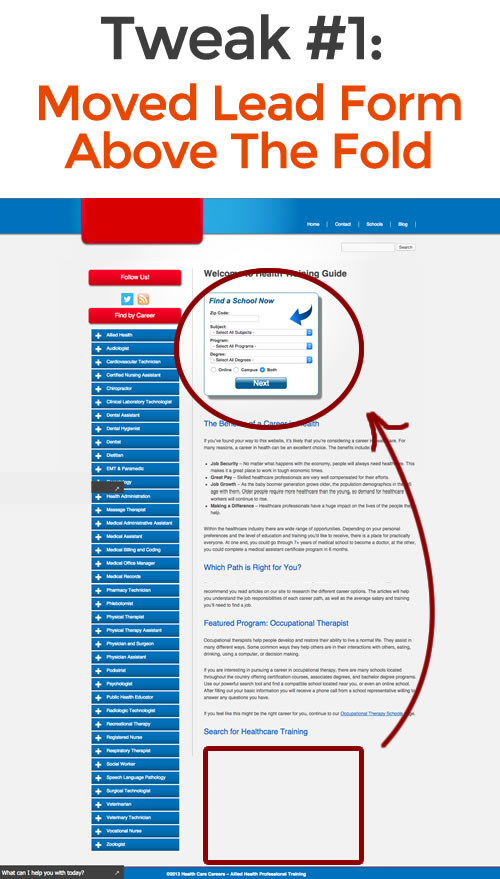 Only about 1/3 of the homepage is viewable (above the fold) when you first come to the website. This meant that in order for someone to see the lead form and fill it out they had to scroll down to the bottom or look in the left hand navigation which most people wouldn't do.
I wanted the lead form front and center and right in their faces as soon as they came to the site. So I moved it to the top of the home page.
I also removed the lead form from the left hand navigation. I didn't test whether having it there increased conversions, I just made a gut decision to take it out and focus on the one form being above the fold.
This change took me about 15-30 minutes to do.
Tweak #2: Popup Lead Form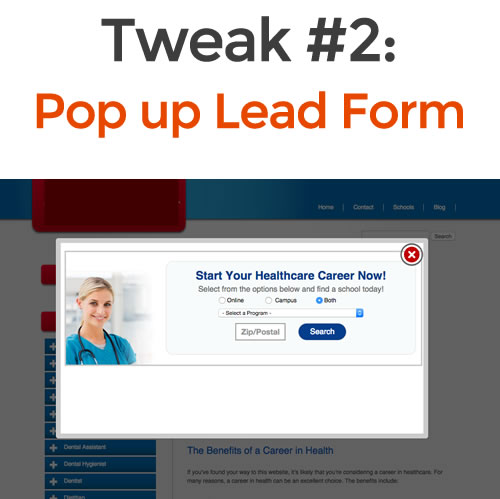 I know that many if not every person hates popup windows. Or at least they say they do, and many of you are probably scared to use them because you don't want to offend your website visitors.
The reality of popup windows is they work. They work because you are forcing your visitors to make a decision. They have to decide either "Yes I am going to fill out this form right now," or "No I don't want to fill it out right now." There is no other option. They can't do anything else until they make that decision.
Because you are forcing them into a decision many of them will choose Yes. It has been proven time and time again that popup windows increase conversions.
So this is the second tweak I made. I just gave my visitors the chance to decide for themselves Yes or No whether they wanted to fill out a form.
The wordpress plugin I used for the popup window is XYZ Lightbox. I like this because it has flexibility in what you can put in the popup window. I needed to be able to put a picture and a javascript form.
Tweak #3: Add State Pages To Each Category

This change took a little more time to implement. I knew that some of the schools I was providing leads for had campus across the country. So I wanted to be able to allow a website visitor to search for programs by State.
So I added state pages to each of the different healthcare programs. When a user would click on their state the page would populate with the schools in that state. They could then choose any or all of the schools and request information from them.
This change took me about a day to get set up.
The purpose of these 3 minor tweaks to the site was to give the visitors more opportunities to do what I wanted them to do, and that was to request information from one or more of these colleges.
I was simply trying to guide them instead of letting them try to figure out the site for themselves. It's similar to how a retailer will put all of their high margin products right up front and center so you have to see them and pass by them to get to anything else.
860% Increase In Revenue From The 3 Tweaks
The changes took about 2 days to get totally implemented and then I just watched and waited. I didn't try to promote the site. I didn't try to do SEO. I just wanted to see what the 4000 visitors per month would do with the changes.
The results were amazing. I was surprised to see how much of a difference these 3 small changes made.
Within 4 months the revenue increased from $208/mo to $1992/mo in month 4. A 860% increase in revenue. It was awesome to see what could be done with just a few changes to the site itself.
It was all about increase revenue per visitor. We didn't need more traffic we just needed to monetize the traffic better.
So what was the new revenue per visitor after the changes? $0.50 per visitor.
$0.50/visitor was much more like what I would expect in this industry. That is a number an investor will drool at. So what happened? An investor came and offered an 17 month multiple for the site.
The offer was $34,000 for a website I had just purchased 4 months previous for $3,700. A 719% return on my initial investment.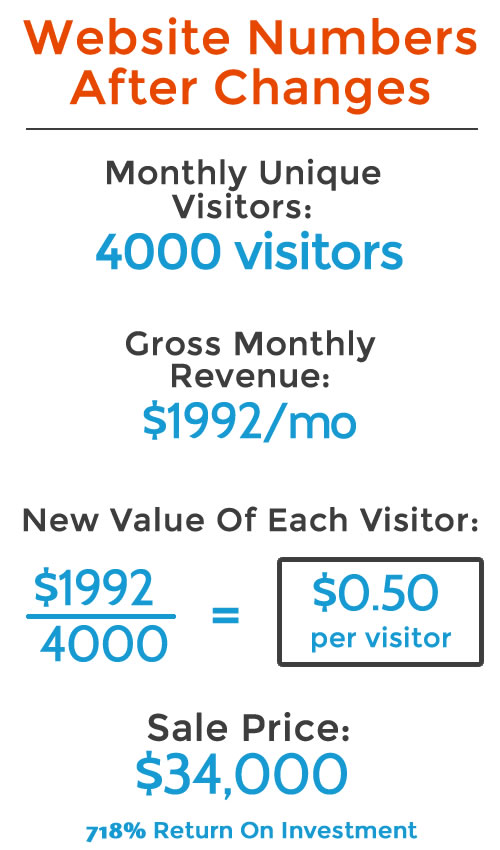 All from 3 tiny changes that took less than 2 days. Not a bad 2 days work.
So to recap, the three changes I made had to do with pointing the visitor in the direction of what I wanted them to do. My goal for this website was to get the visitors to the site to request information from healthcare colleges so they could potentially enroll and become students.
I didn't care if they read any of the copy on the site, I just wanted them to see the form and fill out the form. Now I understand that providing good content that is engaging helps increase customer satisfaction and can increase conversions as well. On this test though I didn't care about that. I just wanted to see how quickly and dramatically I could increase revenue per visitor.
I accomplished this by moving the form above the fold on each page of the site. Then since that wasn't in your face enough I added the pop up form to the site. If the visitors somehow ignored those first two changes I also added state pages that listed all of the schools by state for each program. Again, this was to give my visitors as many possible opportunities to request information from schools.
I think the biggest takeaway from this test was that if you want your visitors to do something you have to make it so easy and brainless that they actually have a hard time doing something else.
Do you want to learn how build websites you can sell for big profits?
For the past 6 years I have been finding undervalued websites, buying them for super cheap, fixing them up and then selling them when the time is right. Some people call it website flipping. I started Prosperly to teach others how to do the same thing.
If this is something you would be interested in, click the button below and watch another case study of a site I sold. You won't be sorry.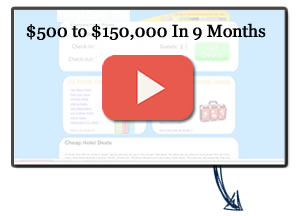 Also, after you sign up I will immediately send you the video case study where I walk you through how I bought a site for $500, fixed it up and sold it 9 months later for $150,000.
I have been buying and selling websites successfully for many years and would love to show you the ropes. Just click on the button above and lets get started.