This morning I received a forwarded email from my Dad (a common occurrence even though I hate getting forwarded email) but he had personalized it a little asking me if he should look into the "business opportunity" a relative sent him.
I was immediately intrigued because he doesn't ever come to me with emails like this. He has worked as an mechanical engineer for close to 40 years and does not typically look to branch out into biz ops.
So I started reading the forwarded email message. It was apparently from an older cousin of mine and started out with the disclaimer that she was sorry if she offended anyone with the email but if they were interested in making money to read on.
Sounded like classic MLM (multi-level-marketing, which I like less than half as much as forwarded emails). I read on: "You and I have both seen the amazing growth of Microsoft, Google and Facebook. We also know that we have contributed to their value as we use their products and add to their revenues. Now, I want to introduce you to a truly unique company called ClicketySplit."
I love how people love to throw themselves and their own companies in with the likes of Google, Microsoft and Facebook. Yeah, I would say that when I think of the most successful internet companies ever, Clickety Split is at the top of the list. (please note my sarcasm)
It is another classic MLM tactic to give general information about the success of a certain industry and exploit it, helping ignorant people by drawing the "obvious" conclusion that since Google made money with the internet you clearly will too.
ClicketySplit's main offering is a software program that "bridges the gap" between the internet and your computer applications. When you run their software they show you "relevant targeted ads" for your convenience. First of all I didn't realize there was a gap between the internet and my computer applications.
Why don't you just call it what it really is, a software program that you have to install on your computer so they can serve ads to you all day. There is nothing "revolutionary" about it. Splitting revenue is a practice that has been done thousands of times over. Only in this case you are the one that has to engage the ad in order to get revenue from it. One word that does come to mind is "adware", "spyware" or "malware".
Here is the kicker, in order to join this once in a lifetime opportunity you have to sign up and pay an enrollment fee of up to $500 and then pay $200 a year to stay enrolled. In essence you are paying Clickety Split to be forced to watch online commercials.
They tell you that to make money all you have to do is "view an ad, click an ad or shop online" and when you do they split the ad revenue with you. So you have to go to one of the advertisers and buy their product and then ClickeySplit will share the ad revenue they get with you. Where I come from paying $50 to get $1.50 doesn't seem like a good way to make money.
The real way you make money is by getting "you to share the software for free with others so that they can get their split also!" In other words, add to your downline and you will make a commission each time. That is where the real money is at.
Then in the email it said: "I believe this is a revolutionary concept that will expand exponentially as people learn about it."
Let me be the bearer of bad news. There is nothing revolutionary about this concept. In fact, they are probably 10-20 years behind the times. All this is, is another multi-level marketing scheme that will most likely make you absolutely no money but will do a great job of alienating all of your family and friends so they will screen all of your calls and stop inviting you over for dinner.
Let me reiterate, there are so many other, better ways to make money online that I definitely would not recommend that you waste any time on this one. Save yourself the trouble, the heartache, the lost money, the lost friends, and make money online the real way.
Update 5/27/09:
In light of some of the comments I've received, I decided to do write more specifically about what led me to the conclusion that Clickety Split is simply a re-spun MLM company.
Clickety-split.com is registered to the following contacts:
Hal Halladay from Palace Partners?  I tried to do some digging and found that he's also the administrative contact for quiltthreads.com (the domain is parked) and pearpieces.com (a site about quilt pieces).
A quick google search for "Hal Halladay" did get me to his LinkedIn profile (see it here).  He has quite a burdgeoning resume and has obviously been very successful building and selling companies.  You can read his blog here (though it hasn't been updated for about a year at the time of this writing).
All I could find on Palace Partners was that it's the affiliate program for Giant Palace Casino (a very large online gambling site, from what I could gather).
I almost missed this, but the clickety-split.com domain that ranks is actually redirecting to clicketysplit.com (no hyphen).  I checked out that domain and got the following:
So a new person has appeared (Daron Johnson's the technical contact on both):  Rusell Sewell (view his LinkedIn profile here).  Russell hails form my great state of Arizona.  It looks like he was previously in real estate.
Why Did I Call Clickety Split an MLM?
If it walks like a duck…
They have a "Platinum Membership" where you can recruit other members.  Each platinum member can be on varying tiers:  Premium, Elite, and Select.  You need to pay $495 to become a premium member and then renew annually at $195.  If you recruit a "free" member (someone that just uses the software to earn revenue based on their sharing program) then you get 4x their payout.  Elite members get 3x their payout and Select gets 2x the payout.
Here's a screenshot:

"Simply invite a friend to join…your earning potential is based on the number of clickthroughs…from the people in your circle of influence…"
"Get in on the ground floor…"
"Exclusive…"
"The time to act is now…"
"As each tier fills its membership, the next tier will open until it's filled."
"Expected to be evangelists and very active in their use and promotion of Clickety Split."
"Qualify and invite others to join you as a platinum member that would naturally promote Clickety Split."
"Limited time opportunity…available only for early adopter members…"
Perhaps that's all just nice marketing copy (hey, I'm a marketer too and can definitely understand that).
But let's examine closer — is Clickety Split really an MLM?
I'll reiterate what I wrote originally — absolutely.
Go ahead and click the sign up button on their site.  Here's what you see: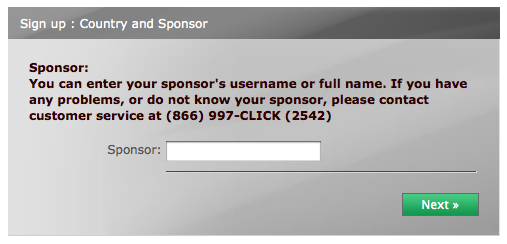 Hrm, let's see…what other type of business model has "sponsors" when you sign up?
Also, In the bottom-right corner of the sign up page I saw a logo for OrbSix Software (they're a supplier member of the Direct Selling Association).  I checked it out.
So…if OrbSix Softare is a supplier member of the Direct Selling Association (DSA)…then what types of members would it be supplying?  I dug through their list.  Here are a few you may have heard of:
Amway
Agel Enterprises
Avon
EcoQuest
Mary Kay, Inc.
Nu Skin
Primerica
So Clickety Split isn't a member of the DSA, but they're using OrbSix Software…for what exactly?
Well, OrbSix offers a whole host of tools, mainly for paying commissions, order management, downline management, autoship profiles…
Perhaps I'm reading too much into this, but straight from the horse's mouth at OrbSix' about page:
OrbSix Software is a software service provider for the direct sales and network marketing industries.
Here's a choice quote from the IT manager at Agel (an MLM company):
I would recommend OrbSix to any mlm company.
Update 5/28/09:
I should clarify a few things.
I'm not saying Clickety Split is a bad company.  All I'm saying is that it's an MLM where you make money by referring friends AND clicking ads.  I feel like I've made a very solid case for that.
Just because the software will be free doesn't mean they're not an MLM.  Instead of having people purchase some autoshipped products each month, they're having people click.  The advertiser is buying the advertising (product) from Clickety Split, who is then paying a commission on the advertising (product) to the software user.  I DO want to see the software in action to actually see how it works, so in the Fall when it's released, I'm certain I'll take it for a spin.
I don't want to get into war of semantics over whether or not Clickety Split is an MLM or not — heck, MLMs are not evil (they just carry an extremely negative connotation with me and apparently a few other people).  However, when I received that email that I originally referenced, it sure seemed like an MLM, and doing further digging, I've concluded that it is.
I've removed the personal emails of the managers — not trying to be clever, just trying to see who's behind it.  Very standard due diligence before investing money, time, and reputation in something.
A message to commenters associated with Clickety Split:  Instead of spending your time disputing whether or not Clickety Split is an MLM (it is), why not just try and promote it as a legitimate way to make money?  Why are you so worried that one guy (well, and Greg) is convinced Clickety Split is an MLM and has written about it?
Conclusion
Listen, you can run off lickety split and join Clickety Split for $500, recruit all of your friends and make your millions, or you could NOT, and save yourself some time, disappointment, and perhaps a few awkward Thanksgiving dinners.