I Am Giving You Access To My Experience And Know How As I Personally Coach You Through Your First Purchase
So you're ready to get into the internet marketing game but don't want to go it alone? I don't blame you. Trying to find the right website to buy can be a daunting task.
I have never done this before but I am going to do it now. I am offering up myself as your personal coach through this stressful process of finding, buying, and fixing up a website.
I have been very successful financially buying websites, fixing them up and then selling them. Now I will work with you one on one to help you do the same.
Here are some of the results from websites I bought and sold: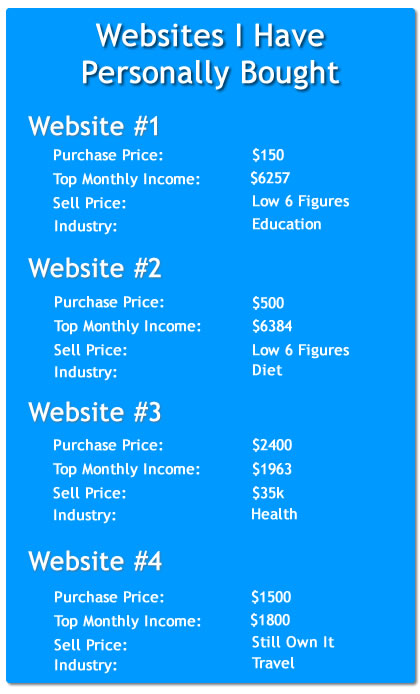 You can rest easy knowing I will help you pick the best website to buy that has a very high potential for increased revenue and will help you negotiate the best price from the website owner. Take advantage of the experience I have buying and selling websites and let me help you buy your next website.
How The Coaching Will Work
Step 1: Initial Phone Interview
Here we will discuss exactly the kinds of websites you are interested in, including what your interest and skills are. Together you and I will then determine the industry that would be best for you.
Step 2: Website Prospecting
Using the tools I have created and used to buy my own websites, I will prospect the industry you and I have chosen together and select 2-4 potential sites. I will then bring those sites back to you and you and I will discuss which of the sites are the right fit for you and which ones we want to make the offer on.
Step 3: Make The Offer
I will guide you in the process of making the offer to the website owner. This will include consulting with you on the back and forth of the negotiations until you can reach an agreement and make a deal.
Step 4: Site Ownership Transfer
I will work with you as you get your new site transferred over to you. I will make sure the transition is smooth and help you assure that your site doesn't experience any down time so you don't risk losing any search engine rankings.
Step 5: Site Overhaul
Now that you own your new website I will give you a guide on the things you should do to make your new website the best that it can be. This will include website strategy, SEO suggestions, monetization ideas, and design ideas.
That is where I will "let go of your hand" and send you on your way. You will be tooled with the best internet marketing knowledge and strategy that I can possibly give you.
My time is limited and I will only take 5 coaching clients in July.
In order to give each of you the service you need as your personal coach I am only going to be taking on 5 coaching clients per month.
The cost for my coaching service is $999. I know it's not cheap but you get what you pay for.
Now is the time to buy a website when people are desperate to get some extra money and they haven't been able to get it out of their website. Let me help you buy their website from them and turn it into a money making machine.