One of the ways I monetize LawnCareDirectory.com is by adding Google Adsense on a few of the pages. Well in order to maximize the amount I make on these pages I have tested different kinds of ad sizes. Well recently I did a Crazyegg report that showed me which of the two ads were getting clicked more.
The two different ads I used were the lartge rectangle and the horizontal banner. The major thing I was testing with the banner was to include related images above the banner trying to make them line up as closely as possible with the 4 Google ads. As shown below: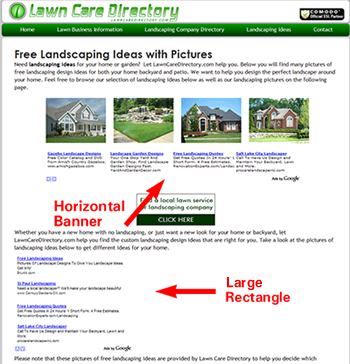 I was very surprised by the results. Here is a snapshot of the Crazyegg report. The little dots are actual visitor clicks.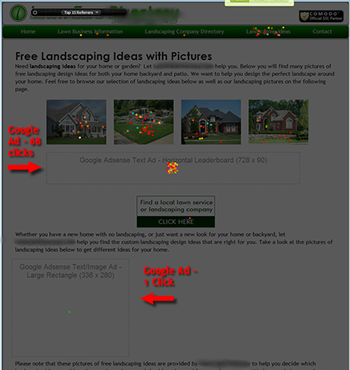 As you can see the horizontal banner with the images above it got 68 of the 115 clicks that were done on this page. The large rectangle which 4 years ago was said to be the most effective Adsense size, got 1 click. This could be attributed to the fact that the medium rectangle is partly below the fold but the difference between the two is significant. You can also see that many people clicked on the images of the houses themselves even though these do not link to anything.