As many of you know I always like to have a handful of SEO clients to work on. I do this for 2 reasons. Firstly, they pay me (I'm not an idiot). Secondly, it helps me stay on top of what is working now in the SEO world.
Over the years I have found myself developing new tools that make my life easier when I do SEO for these clients.
Guest Post Tracker falls under this category.
One of the main branding and link building strategies I like to use is submitting guest posts.
Guest posts are awesome for 2 reasons.
First, if you choose the right blog who has the same audience as yours, it can drive awesome converting traffic instantly (more on that in a bit).
Second, the power you get from an SEO standpoint from links in those guest posts (or author bio) really do make a difference in your rankings.
So what is Guest Post Tracker?
As I was doing the SEO for both my websites and my clients one thing I noticed was that it was extremely time consuming to try and find blogs that would actually allow a guest post.
So then I went to some of the "ultimate" list of blogs that a few bloggers had already put together and probably half of the blogs in those lists didn't accept guest posts anymore.
So I started putting together my own list. As my list got bigger and bigger it became very easy to find a related blog and submit a guest post.
I shared the list with some SEO friends and they loved it!
I knew I was on to something.
I was working with the list so much that I wanted more features added to it.
For example, I wanted an easy way to track which blogs I had submitted to for each SEO client. I also wanted to easily sort blogs by category.
But the list kept growing. When I got to over 500 websites I realized my Google spreadsheet wasn't working anymore.
So I set out to build GuestPostTracker.com.
The funny thing was, I had the idea to build it, I got on the phone with my programmer and in less than 10 days it was finished.
It was easily the fastest project I had ever embarked upon.
The website turned out amazing, better than I expected.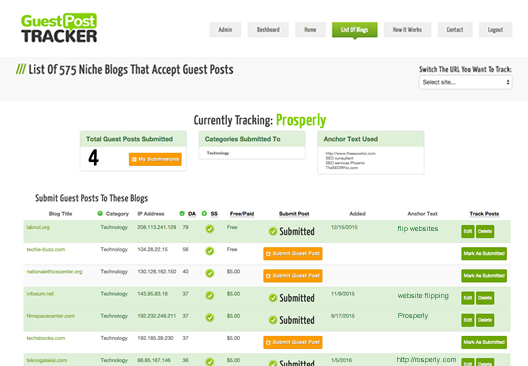 The site has 3 huge advantages over any other list of blogs that accept guest posts out there.
1. The site is always updated. I add (and sometimes remove) new blogs almost every single day. You don't have to waste time looking for blogs.
2. The list is searchable by category. This makes your life really easy when you only want blogs in a certain category.
3. Submission tracking. The software allows you to mark any blog that you have submitted a guest post to. So when you look down the list you see which blogs you've submitted to, that date you submitted and what anchor text you were targeting.
These three features made this list of blogs extremely useful to me as an SEO guy and anyone else that wanted to promote their website through guest posting.
It was ready for the masses.
I decided to charge just $5/mo for people to use the software. This would help cover my programming costs plus the cost to keep the list updated.
How I Started Getting Sign Ups Without Spending A Dime
Like I mentioned earlier, guest posting can be an amazing advertising tool if you do it right.
I found a blog (business2community.com) that I knew was a good match with my new business. I didn't know how much traffic a guest post there would bring me but I did want a strong link to get my new site indexed.
So I asked one of my SEO friends who is a contributor (he was using the software) to post an article about the new software. He posted the guest post entitled, "3 Must Have SEO Tools For 2016 You've Never Heard Of Before".
2 days after he posted the article it was live on the site.
Now keep in mind the site was brand new and I was just trying to get it indexed from a good authority site.
But once the article went live, people started signing up.
To my surprise not only was the guest post driving traffic, people were signing up.
The conversion rate on the site was close to 3% which is phenomenal.
I knew the guest posting site was useful but I was thrilled to see people agreed with me and were signing up.
This whole process I had just gone through proved how valuable having a good updated list of blogs that accept guest posts really is.
I picked a blog from my list, submitted a guest post and saw a boost in traffic and sales instantly. Awesome.
So as I saw the amazing response to the site with such small amount of traffic I am really excited about the future of this site.
3000 Users By The End Of The Year
I'm setting some ambitious goals for this site. I want to be at 3000 users by the end of the year.
This means that I need to get about 150,000 unique visitors over the rest of the year which averages out to be almost 14,000 visitors per month. From those 14k visitors I need to average about 273 sign ups a month.
The first part of my traffic strategy is to continue to get engaging guest posts on high value blogs that match my audience.
The second part of the strategy is to approach the bloggers who already own the search rankings for all of the "list of guest posting blogs" and pay to advertise on those lists. I've already approached 2 of the highest ranking blogs and they have agreed to allow me to do that.
Third strategy is to target through SEO the hundreds of phrases that will drive targeted traffic. One of the cool things about this niche is people not only search for broad terms (ie "guest posting site") but they also search by category (ie "submit health guest post"). So I will spend time targeting all of those niche phrases as well.
As it has been well documented in articles like this one: https://springhillmarketing.co.uk/the-ultimate-guide-to-blogging-for-seo-success/ creating smart blog posts that target specific key phrases and solve the problems of my target audience is the fourth part of my SEO strategy.
14,000 visitors in a month is a lot but with the right traffic strategies I am confident I can make it happen.