Guest Post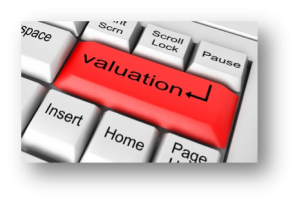 Placing an accurate value on a website is a truly tricky proposition. Most website valuation companies follow a loose set of guidelines, but the Internet is an ever-changing landscape that causes any fixed rules to fall by the wayside in a matter of weeks.
Case-in-point: Flash back to 2009. Websites optimized with hundreds of thousands of low-quality backlinks and monetized with AdSense were dominating the SERPs and making countless webmasters boatloads of cash. With the right set of tools, any SEO worth his salt could crank out niche sites, get them ranked, and start seeing profits within a month or two – some were even making fulltime careers of it.
Then, by late 2011, Google leveled the playing field with a series of algorithm changes that shook the SEO community to the bone and changed the game entirely. The same tired old tactics simply didn't work anymore. Link farms? Gone. Blog networks? Dead in the water. Backlink blasts, comment spam, and forum links? Practically useless.
Today, people are scared. People are concerned. They wonder what value their sites have after Panda and Penguin. They want to know if websites will continue to be assets in the future. But the concern is unfounded unless the webmasters in question are guilty of engaging in any of the blackhat tactics that Google is outlawing left and right.
Penguin and Panda – So What Happened?
Before we can understand how website values changed after the updates, we need to know exactly what it was that happened. Here's a little refresher course:
There's an easy way to distinguish between the Panda and Penguin updates. Panda is an update that targets on-page issues, and Penguin tackles backlink problems.
When Panda originally hit, it penalized sites that had issues such as duplicate content or too many ads plastered above the fold. According to Neil Patel, SEO legend and founder of Quicksprout.com, Panda ushered in penalties for these main website issues: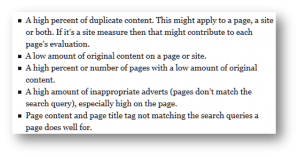 Then, a year later, Google followed Panda's changes by unleashing Penguin. This update dealt with backlinks in a major way. Sites with thousands of spammy links pointing to them were hit hard, and webmasters scrambled to clean up their backlinks in a hurry after they watched their rankings plummet overnight.
According to Search Engine Watch, Penguin examined three key areas of a website's backlink profile: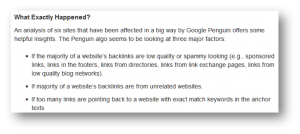 This wiped some of the spammier sites off the map. Even legit sites run by webmasters who used backlinking services, linkblasting software, or who sold paid links were hit. This is because the referring sites themselves are now a ranking factor – you should have a natural-looking backlink profile with a variety of anchor text, and it should be comprised of well-respected sites in your niche (or sites that are at least related in some way).
Website Values Post-Panda/Penguin
So, how can you figure out what your website is truly worth after all the algo updates? The best way is to employ a website valuation company in order to determine a value. If you use a simple auction site or attempt to place a value on the site yourself, then you risk grossly mispricing your greatest online asset.
To determine the true value of a website, a legitimate valuation company will calculate your website's revenue for the past twelve months. A multiplier is then applied to assign the website a grade of A to F, and the multiplier generally depends on three important factors:
This external factor is based on macro-level issues such as economic conditions and algorithm changes. For example, people don't trust Google as a singular traffic source now that such dramatic changes roll out every few months. The search environment is unstable at best, which is the reason that websites relying exclusively on Google for their traffic have lost value so rapidly.
Buyer mood is an extension of economic factors, and it's similar to stock market conditions. Buyer mood affects pricing because, quite simply, there's no way to sell an asset if no one is buying. If the Web experiences major upheaval, trends in certain types of websites ebb and flow based on the changes. Hence, buyer mood will majorly impact the possible sale of your site contingent upon what type of site you own.
These are the factors that impact the sale of your site based on the site's stats itself. For instance, the lifespan of the site, its potential for future growth, stability, and its presence in the industry are all key factors that majorly influence the price of your site.
How to Increase Your Website's Value
If you've bought a website and you want to increase its worth in this new search landscape of ours, don't fret. Building out a site still involves the one-two punch of beefing up content and building backlinks. However, an extra piece of the puzzle after Panda and Penguin is community building. This is the missing link going forward– you must strive to nurture and grow your website's community above all else.
How? Network with others in your niche. If relationships already existed between them and the previous site owner, extend an olive branch and pick up where he or she left off. Comment on related websites and blogs. Guest post. Link to authorities in your niche.
You're not doing this for links. You're doing it for exposure and networking.
Eventually, people will link to you – and your backlink profile will have truly organic links that you didn't lift a finger to build. You'll also gain shares, conversations, Likes, great discussions, and plenty to write about because you'll be part of a real community – an integral piece of an ongoing dialogue.
To determine which areas of your website need work, try performing a traditional SWAT analysis. Figure out the areas where your website shines and identify the parts that need work. Then, determine which opportunities are out there for your site, and decide what external factors threaten your site as well.
Another way to increase the value of your website and future-proof it against new changes is to ensure you keep clean records at all times. Don't mix your website data with information from other business ventures or websites. Keep detailed, independent accounting and maintenance records so when the time comes to sell, you'll have all the info you need at hand.
Assigning a value to a website is a complicated matter. The number can fluctuate wildly as external factors change the landscape of the Internet. That's why using a website valuation service is a good way to determine the true value of your website before you decide to sell.
Quiet Light Brokerage is a website valuation company that provides free online valuation services as well as a full spectrum of services to help webmasters prepare their online businesses for sale.