Starting from Scratch: Buying a New Domain
If you've chosen to start your website from scratch, the first step is to find and purchase your new domain name.  When I say "new" domain, I mean a domain name that has never been previously registered.
Choosing a Domain Name
There are a few things to consider when choosing your domain name.
SEO Friendly
Your domain name itself can actually help a good deal in your efforts to rank better for certain key terms.
One of the quirks in the Google algorithm is that if someone searches for exactly what your domain name is, you have a very good chance of ranking for that term with out doing a lot of SEO for it.
For example, if you do a Google search for "buy domains" the website buydomains.com is the first listed site. Google makes the assumption that when you search a key phrase and there is a website who's domain name matches the exact phrase you searched, they assume you were searching for that specific company. So you can buy domain names that are highly searched key phrases and get ranked fairly easily for those phrases.
You can use one of the key phrase search tools I talk about in the SEO portion of this guide and find some commonly searched terms. Then go see if any of the domains that match those key phrases are available for sale.
If buying an existing domain: keep in mind that Google at anytime can change their algorithm and this could no longer be an effective technique so there is risk involved if you are spending a lot of money for a domain. Having said that I recently spent $800 on a domain because it is a good search term that would bring very targeted visitors for what I am offering.
.com or .net?
When buying a domain I recommend always trying to get a .com name. People naturally see the .com website as the authority and if they are typing in your web address they will often type .com out of habit. You could lose customers if you own a .net or .org domain name.  If however, the .com domain that you're determined to get is taken, I would consider a .net as the next best option.
Easy to Remember and Type
All things equal, a domain name that's easy to remember and type is better than a long, difficult one.  If, for whatever reason, you plan on advertising the domain, you will definitely want it to be easy to remember.
This may not be as big of a factor, however, depending on how you intend to get most of your traffic.  If, for example, most of your traffic will come from organic rankings (which should be the goal for many of you) a long name won't matter as much.
For example, I recently started a website where my main key term (searched more than 3 times the amount of the next biggest term) consisted of four large words, making it a very long key term.  I found a domain that contained that exact phrase, so I bought it.  Now, when friends ask what the site is, they laugh, but the site also started ranking (it just got on page one of Google) much quicker than it otherwise would have.
What if the Domain I want isn't Available?
In most cases you'll find that the perfect domain for your new website has already been taken.  You'll often have to be a little creative and flexible when coming up with other alternatives.  Here are a few ideas to get you thinking:
Consider adding hyphens (-) between the words in the domain.
Consider getting a .net rather than a .com website.
Find possible synonyms for different parts of the domain.
Use the Google Keyword Tool to find similarly searched terms.
Consider buying an existing domain (see Buying an Existing Domain).
Buying Your New Domain
Ready to buy a domain?  This tutorial will walk you through each step necessary to become the proud owner of new domain.  While there are literally hundreds of different companies that act as domain registrars, we'll be using our favorite for this tutorial: Name.com.  We'll also be setting up a domain named www.prosperlybeginners.com.
Step 1: Go to www.Name.com.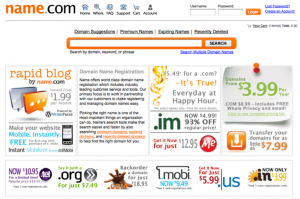 Step 2: Either create an account or log in (both found at top right).

Step 3: Type in your desired domain in the search box at the top. Click Search.

If your domain is available it will have a box that you check to select it.  If it's not available, the option for that particular domain extension will be in grey and "Taken" will appear:

Input different domains until you find one that is available.
Step 4: Click on the domain extension (.com in the example) that you want.  Then click Checkout.

Step 5 (optional): If desired, click the Private Whois box to have your personal information hidden from the public Whois records.  Click the Google Apps box if you'd like to automatically be signed up for Google Apps (for now, I suggest keeping it unchecked since we can easily sign up for it later).
Step 6: Input your payment information, agree to the terms and conditions, and click Purchase Now.  *You may also want to do a quick search for "name.com promo code" to get a small discount.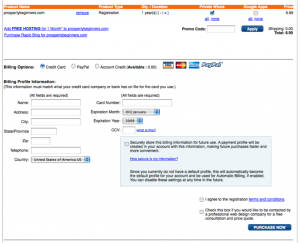 You can view and manage your domains by clicking on Account at the top of the screen. We will come back here when we set up hosting for the domain.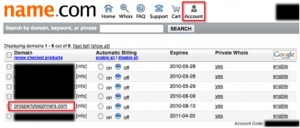 You are now the proud owner of your new domain.