Installing WordPress
Now that you've set up your domain and hosting, you're now ready start building your own unique website.
While there are many ways to build a website, we are looking to create a professional looking website in the most efficient way possible.  For beginners and veterans alike, we suggest using a content management system (CMS) called WordPress.  WordPress is basically an online publishing application that you'll use to create your website (everything from it's appearance to actually adding the content).
WordPress is a fantastic CMS with tons of extensibility and limitless customization.  It's very SEO (search engine optimization) friendly and extremely robust.  Also, with the vast number of themes available for WordPress, you can be up and running with a professional looking website in no time.
Being that we strongly recommend using WordPress (referred to hereafter as WP), the rest of the instructions about how to build your website are given based on the assumption that you're using WP.
The following tutorial will walk you through how to install WP on your website using HostGator.
Installing WordPress: 2 Options
Since we are using HostGator as our hosting company, we have two options when installing WordPress on to our website:
Option 1:  Use the Fantastico application in HostGator's cPanel.
Option 2:  Install WordPress manually by using FTP.
We'll go over just option 1 in the following tutorials because it is much easier.
Using Fantastico to Install WordPress
Fantastico is a software application that automatically installs WordPress onto your website.  If this option is available (which it will be if you use HostGator), than this is by far the easiest way to install WP.
Step 1: While in your cPanel, scroll down towards to bottom of the screen until you find the Software/Services section.
Click the Fantastico De Luxe icon.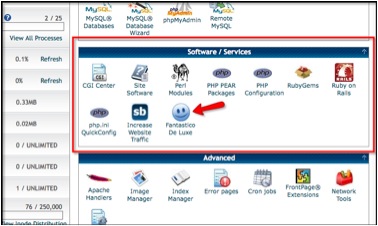 Step 2: Click on the WordPress link in the left sidebar.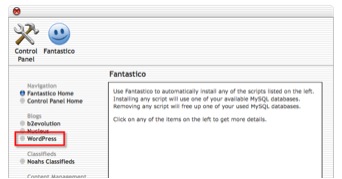 Step 3: Click on New Installation.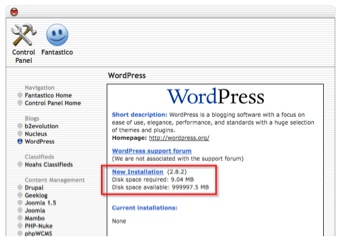 Step 4: Input the following information into their respective areas:
Install on domain:                    Select the domain on which you're installing WP
Install in directory:                   Leave blank
Administrator-username:       admin
Password:                                   Your desired password
Admin nickname:                     Your desired nickname
Admin email:                             Your desired email address
Site name:                                   Your website's name
Description:                               Description of what your website's all about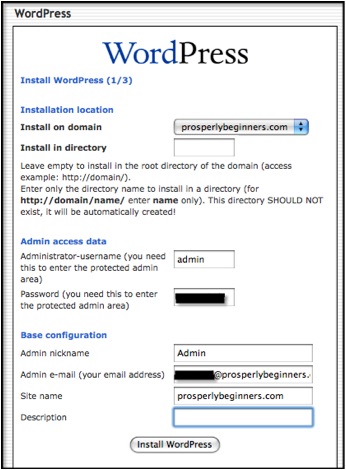 Click Install WordPress.
Step 5: The following screen notifies you that it's creating a database and database user to be used for WordPress.
Click Finish Installation.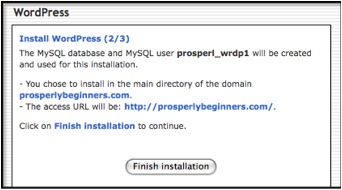 Step 6: Take a final note of your WordPress username (should be "admin") and your password.
Either bookmark or make a note of the URL that's give here (yourdomain.com/wp-admin). This is the web address that you'll type in to access the WordPress interface (to manage virtually everything on your site).
It may also be a good idea to enter your currently used email to receive a copy of the installation details.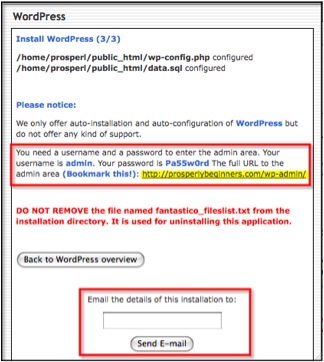 Click Back to WordPress overview.
Step 7: Open a new tab or window in your web browser.  Type in your site's admin URL that was given in the previous step (our example was: prosperlybeginners.com/wp-admin). Hit Enter.

Step 8: Input your username (admin) and password that you selected during the WordPress Install.  Click Log In.

Step 9: Welcome to WordPress!  You can consider this the "backend" of your website.  Here you will add pages and posts, alter the appearance of your website, add plugins, and more.

Over time you will become very well acquainted with the WordPress Admin interface, but feel free to take a few moments to browse around and get familiar with it.
Step 10: In a new tab or window in your web browser, type in the URL of your new website (e.g. prosperlybeginners.com).   Your new website should look like this: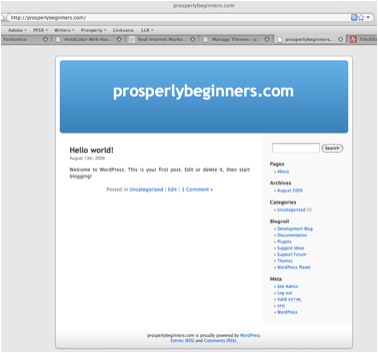 Congratulations! You have now successfully installed WordPress on your new website!
*If you still see the default HostGator webpage, you may need to delete the default.html file on your website's directory.  You can skip the following section if your screen matches the website screenshot above.