Change Your DNS Settings
The first thing we must do is to change our DNS settings to point to HostGator.
Shortly after completing your purchase of the hosting, you should receive an email from HostGator with some instructions on how to get started.   The most important section of the email is where they list your name servers.
Step 1: Make a note of the two name servers given in the email.
Step 2: Go to Name.com and log in to your account. *These instructions assume that you registered your domain with Name.com as was shown in the Buying a Domain tutorial.
Step 3: Click on Account at the top of the page.

Step 4: Click on the domain name for which you are setting up hosting.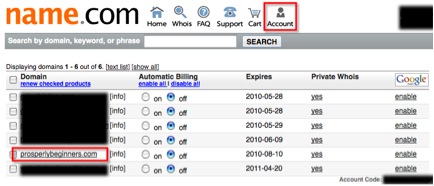 Step 5: Click Edit Name Servers under Control Panel on the right side of the page.

Step 6: In the box under "Add Name Server," type in the first name server (e.g. ns1929.hostgator.com) that HostGator provided you in your email.
Click Add.  Then do the same thing for the second name server.

Step 7: Click (Remove) next to each of the first four default name servers to take them off of the list.

The only name servers that should now be listed are the new ones for your HostGator account.
Welcome to Your New Website
Believe it or not, your website is now live and running.*  In a new window or tab, type in your domain name.  You should see a screen like this one: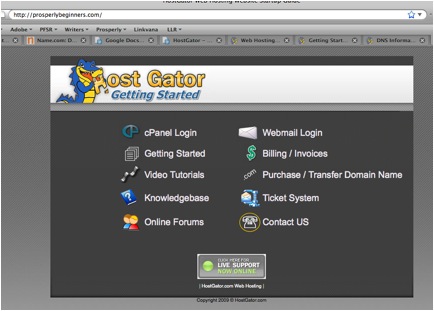 This is HostGator's default page for a newly hosted website.  It's appearing because we haven't uploaded any of our files to create our own web pages yet (don't worry, that's coming up).
There are a number of good resources for you here, particularly the Getting Starting and Video Tutorials links.
The first item on the screen is the cPanel Login.  The cPanel is basically the control panel for your hosting.  You will use it to perform various actions including creating a database, managing emails, adding other domains, and more.
If you'd like to check it out now, simply click on the cPanel Login link or type in "yourdomain.com/cpanel" in your web browser (replace yourdomain.com with your actual domain name).  This is how you will access the cPanel from now on (you may want to bookmark it).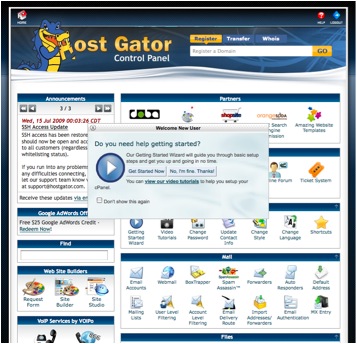 *HostGator says to allow 24-48 hours for the DNS change to propagate worldwide, so don't be surprised if it's taking a bit to see your website (or rather, HostGator's default page).
Check out the next post in the series on how to install WordPress on your site.