I know many of you are thinking, "does Adam really believe that?" Well the answer to that question is maybe not the best movie ever but if I don't over hype it how else will I get people to see it.
Anyway, I was down in my theater room this morning (I built it after we sold "Diana") watching the special features of Lady In The Water and it just reminded me how upset I get about the fact that the movie is not more popular.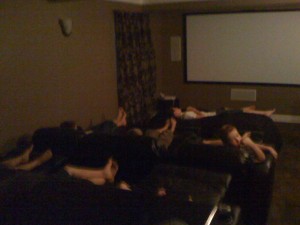 Truth be told Lady In The Water is a great movie. Probably M. Night Shyamalan's best work and yet the movie tanked at the box office compared to his previous box office smashes. People were too busy seeing the latest (lame) installment of Pirates of the Caribbean to see Lady in the Water and so instead of seeing an awesome original movie they saw a sequel that was pretty bad.
Warner Bros did a horrible job marketing the movie touting it as a scary wolf story which totally missed what the movie was.
So bottom line here, if you have ever taken my advice before on this blog then take this advice:
Go buy Lady In The Water on DVD or BluRay. It is a clean well written, well acted movie that everyone should see.