Link Cloaking
What the heck is link cloaking? To be as plain as possible, cloaking affiliate links is the art of showing your visitors an internal link when they mouse over an affiliate link so that the visitor doesn't think they are leaving your site.
For example, one of the websites we used to run was a site that provided leads to online universities. We used a third party affiliate company to gather the leads. So when someone came to our site and wanted to request information from University of Phoenix they had to click on the "request info" button.
When they would do that they would be taken off of our site and to the third party affiliate company where they could fill out the form to request info. The url would be something like http://www.affiliatesite.com/affid=1234?schoolid=366.
So in order to make a more user friendly experience we started cloaking affiliate links by creating a php redirect that when they hovered over the "request info" button it showed the url destination to be http://www.oursite.com/univeristyofphoenix.
This type of link cloaking created a less stressful user experience so they would be more likely to click on the link. They still ended up on the same affiliate page but we found out that more people would click through to the page with the affiliate links cloaked.
Link Cloaking To The Next Level
After awhile we saw that there was a disconnect between the design of our site and the design of the affiliate pages we were sending our visitors to. We really wanted to create consistency as much as possible so we wanted somehow to keep the same design of the site on the affiliate page.
Since we couldn't control the affiliates website we went to the next best thing. We used an iframe to keep the form where they request information on our site. This creates a smoother user experience.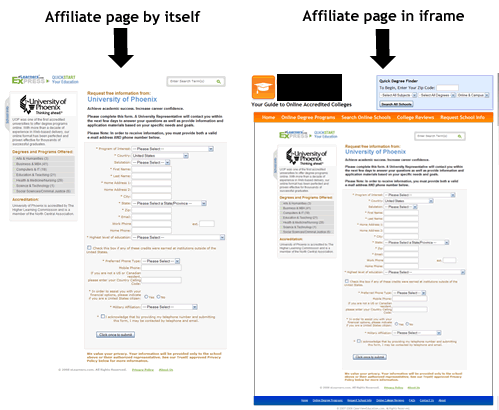 When you set up your affiliate pages using this link cloaking technology your website visitors don't ever have to know that they are dealing with an outside website. Because the user experience stays completely seamless they will be more likely to fill out the form and thus we would make more money.
So if you are looking for a great way to cloak affiliate links, this has been one of the most successful ways that we have done it. The biggest thing to take away is that ultimately what we are doing is taking away any mental roadblocks our users might have before they get to the form. Good luck with your link cloaking strategies.