Yesterday I came across a Google ad on someone's website. The ad caught my eye because they touted how they made $7k a month posting links on Google. So I clicked on the ad and it was a story about a young guy who believe it or not grew up in the exact city where my office is.
Since he made a point to mention it twice I knew something was fishy. Also the product the guy was selling how to make money posting links on Google. Just the terminology behind this product threw up a huge red flag.
Anyway, I went through the sales copy and saw all these pictures of Google checks he was saying was proof of income yet conveniently all of the Pay To The Order of names were blacked out. So he tells me how he and his new wife just bought their new Range Rover with the money they made posting links on Google.
At that point I knew the whole thing was a scam. If you claim to make $7k a month ($84k a year) there aint no way you're buying a new Range Rover which is a $90k car.
Anyway, I was on another website this morning and low and behold I saw another ad that looked very similar to the one I found yesterday.

So of course I clicked on it and low and behold it was another website touting the exact same thing.
In fact, by some rare coincidence this guy grew up in the same town that my office is in (their websites are just looking at my IP address and then saying they grew up in that town), and he also was recently married and with the money he made from posting links on Google bought the exact same Range Rover (even used the same picture).
This kind of crap happens all of the time and people get duped into thinking they are buying a product from someone who is sincere about how they make money online.
The point of this is that there are probably hundreds if not thousands of these clone websites that these people just replace their name and pictures and try to convince you that they really have made money posting links on Google.
I am going to show you what the website looks like so that if you see it you know NOT TO BUY ANYTHING from them:

This is the sign up page all of these sites point to: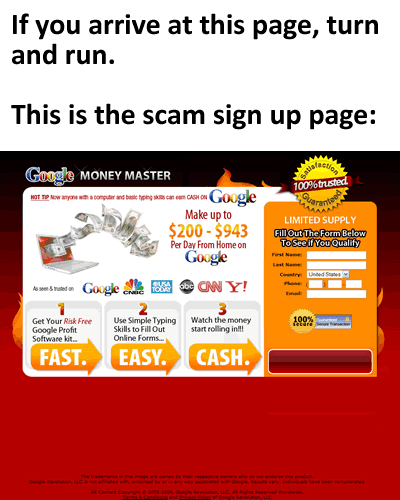 Updated 4/16/2009
Many people have been asking us if there is a legitimate way to make money posting links on Google (or with Adsense sites) and the answer is yes. We have some good friends over at thekeywordacademy.com who do an awesome job teaching people in a legitimate way how to make money with adsense. Check them out if that is what you are looking for.
Update 5/5/2009
Thanks to our readers who have pointed out that these guys are now creating different websites that don't have the same Range Rover and different pictures of checks but be forewarned that it is the same offer. Here is a snapshot of the new page:

Update 6/3/2009
One of our readers sent me the link to this site. Another version of the scam:

UPDATE: 9-3-2009
We have found probably the most clever attempt to con people that these guys have come up with yet. They went out and bought the website WebAnswersPro.com and set it up to look like a Yahoo Answers or something similar. The website has no home page at all, just a sub page that makes t look like someone asked about this Google links thing and then all these "real people" respond with how great it is. DON'T FALL FOR IT PEOPLE!!
Here is what the page looks like:

Update 12-9-09
I found this article this morning on our local news website talking about Google fighting back against these scammers. Here is a link to the article and below is the news clip:
Video Courtesy of KSL.com
Update July 2011
One of the latest tactics these rat holes are using is to build a fake news website and then write an "article" that supposes that someone made a lot of money using their system.
This Is A Fake News Website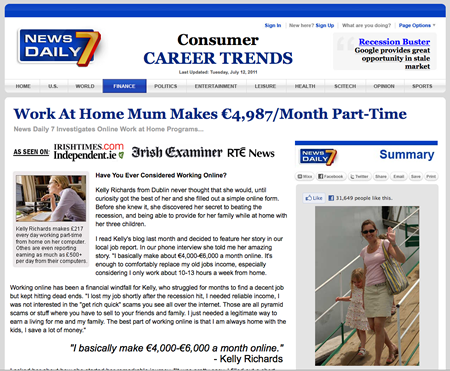 These guys have been doing this for over 2 years now and you probably are wondering how they are still in business. Well if you read the fine print they put at the bottom of these news pages and all of their other scam pages they cover themselves legally.
What Kind Of News Site Has Terms And Conditions On The Footer of the Home Page?

Among other things they say in their terms and conditions that "this blog, and any page on this website, are not to be taken literally or as a non-fiction story."
The audacity! They prey on the fact that we as humans are too lazy to read the fine print. They say right in the footer that the whole thing is a lie.
Lesson here is take the time to read the fine print.
New To Prosperly?
If this is your first visit to Prosperly, this post explains a lot about what we do here. You can also read about the Prosperly Way.
Enjoy!