We finally finished and launched the new Clearview Education website. Before I was dealing with a static template website I purchased 2 years ago and had a very hard time customizing. We have now switched to run through WordPress and the site is both dynamic and scalable. This is the same website some offered me $32,160 for the old piece of junk. This new website will make this site 100 times more valuable.
Why is it that much better you ask?
Well having a dynamic website (information is called from a database instead of on the actual html page) allows you to have thousands of relationships between information in the site which creates thousands of pages. The bigger a website looks to a search engine the more authoritative it looks. In other words, with these changes I plan on taking this site from making about $2k a month to making about $2.5k a day.
I'm a little worried because of all of the 301 redirects we had to do and I don't want to lose any of the search engine rankings (currently #4 for "online college degree" on Google) but I know that over long term it will be beneficial. This will allow the website to rank for thousands of long tail search terms as well as rank even higher for the big terms.
Here is a snapshot of the old website: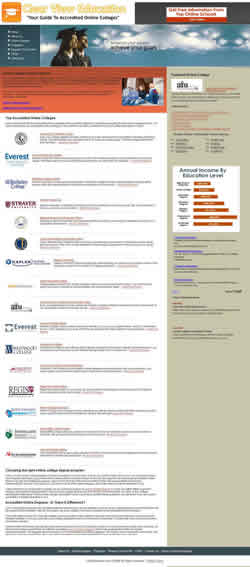 Here is a snapshot of the new website that we literally launched 30 minutes ago:

Let me know what you think of the new site. We spent a couple of months getting this thing ready and we are really excited about the possibilities. I mean who wouldn't be excited about making $75k a month from one website right?