Let me teach you how I made hundreds of thousands of dollars online!
You asked. I listened. I heard the countless emails from so many of you asking me to give you the basic knowledge from point A to point B on how to succeed buying and selling websites for profit. So that is what I have done. I have spent months putting together this all inclusive website flipping guide that is great for you as beginners in the online world.
Some of the success I have had online in the last 2 years: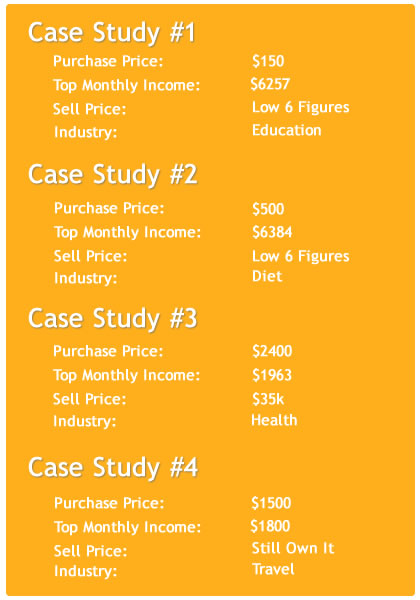 This Is How I Make Money Online: I don't want you to misunderstand. What this course will teach you is the exact things I have done to make a GREAT living online over the last 10 years. I call it buying and selling websites but it could just as easily be called Course On Making A Full Time Income Online.
Ultimate Course To Buying, Fixing Up and Selling Websites
What You Will Learn:
Day 1 – Introduction To What I Do To Make Money + Bonus Report
Day 2 – The Types of Websites You Want To Own
Day 3 – "Finding Prosperly Websites"
Day 4 – The most lucrative internet business I have started
Day 5 – How to buy an established website – negotiating the deal
Day 6 – How To Transfer A Site After You Buy It
Day 7 – How To Immediately Make A Site More Valuable After You Buy It
…and much much more.
I really went through the trouble to create a course that you can use no matter what your experience or knowledge is of internet marketing.
You Don't Have To Sell. I've made a lot of money selling these websites I have fixed up. But I have also made a lot of money keeping websites that I have fixed up. This guide will help you do both.
Check out what some of our previous students are saying:
"Adam, I wanted to let you down at Prosperly Headquarters know how things have been going since I jumped on the Prosperly bandwagon. After I read your Course on Buying and Selling Websites I quickly made the changes you suggested to my website and am happy to report that after just a few months I am making over $500 a month online. I know it's not a ton of money but it shows me that what you teach really works! You guys are awesome. Thanks again."
– Jeff Millett

"This guide is exactly what I have been looking for to help me get started online. For someone who has no experience building websites I was able to take this information and quickly get up and running. Thank you so much."
– Stephen Quinn

"It is unbelievable to me that someone (Prosperly) actually teaches REAL, USEFUL information on how to make money online. I didn't think I was cut out for it but I decided to try it having seen all the success you guys were having and low and behold I am selling my guide online and people are buying it!"
– Christian Reed
This information is over 10 years of blood sweat and tears in the internet marketing world. I have spent thousands of hours and thousands of dollars accumulating this knowledge. You can skip all of the mistakes that I made and just learn the stuff that really works.
Sign up now and start the Ultimate Course on Buying and Selling Websites.
Yours for a successful internet business,
Adam White
p.s. One more thing.
BONUS:



Also, after you sign up I will immediately send you the report I wrote entitled "Striking Internet Oil" where I tell you exactly how I took a website I paid $150 for and in less than 2 years sold it for $250,000.
I HATE SPAM I hate spam as much as you do and will protect your email addresses with my life. :-)