If you're like me you have the dream to own your own internet business. That was my dream many years ago. I could tell that working for someone else was not for me. I had a very hard time with authority and people telling me what to do and when to do it. I literally went through a new job on average every 3 months. I'm sure it concerned my wife a little but I was not willing to accept the misery I was feeling working for other people.
During that time I had educated myself in search engine optimization and decided to take the plunge and start my own SEO company. The company quickly became a financial success. The company was also taking up a lot of my time and was very labor intensive. If I wanted to make more money, I was required to take on more clients and work more hours. I didn't feel successful because I was working a full time job the time for the income I was making. I was self employed but my clients were my boss. I needed to become a business owner.
Success for me is measured by freedom. Not just financial freedom but freedom from obligations like work and other time commitments. I want to come and go as I please and work on my schedule. If I want to go to a movie during the day then I think I should be able to. If I want to go home and spend time with my kids then I should be able to. I like to golf and if I get the desire to golf on a beautiful day that happens to be a weekday I should be able to do it. That is the freedom I am talking about. I believe in working hard and getting things done, but I want it on my terms.
I quickly realized that although my internet company was a success I knew there had to be a better way to earn a great living online. Through much research, many pitfalls and a lot of hard work the Prosperly Way was born (It wasn't called that back then). I figured out that I could run one or more internet businesses that would make money for me whether I was sitting at a desk or not. I knew I was onto something life changing and over the years I developed a system that allows me the freedom I always wanted with the income that I deserve. Now I want to pass this priceless knowledge onto you.
Prosperly Websites
There a millions of ideas out there that you could use to start an internet business. And everyone I talk to has at least one idea that they would like to take online. I always encourage everyone with an idea to try it out. You have so much to gain and so little to lose. In order to live the Prosperly way, I have come up with a list of specific characteristics that define a "Prosperly Website". You should always try your best to implement these characteristics when purchasing or starting an internet business.
First let me explain my philosophy. It is that the real value of a website is not how much profit it makes, but how much profit a website makes divided by how much time it takes you to run the website.

Let's say you own two websites. Site A makes $4,000 a month and it takes you 40 hours a week to run. On the other hand Site B brings in $1000 a month and only takes you 2 hours a week to run.

The Real Value of the Site A is $25 per hour worked.
The Real Value of the Site B is $125 per hour worked.
This may or may not seem obvious to you but Site B is much more valuable. Think of it this way, if you owned 4 sites that performed just like Site B you would have revenue of $4000 a month but only be working 8 hours a week to accomplish this, instead of the 40 hours a week that Site A would require. That means you would have an extra 32 hours a week making the same income as Site A. What would you do with the extra 32 hours a week?
Site B is a the type of website you should run.
My goal at Prosperly is to teach you how to buy an existing website or create a new internet business and turn it into a website that meets this criteria. If you can create a full time income online with these automated websites, then you will finally have the freedom and live as you want to live. You can travel the world, spend time with your family and do everything you wanted to do in life. My guide will help anyone with any type of internet business, but the goal is to help you get the freedom as I define it to live life as it should be lived.
Exit Strategy
I have come to realize that Prosperly websites have a very high resale value. It seems that everyone wants to get their hands on these automated money makers, and they will pay a premium too. Within a 1 month span of 2009 I sold 3 of my Prosperly websites for a total that I am to embarrassed to even talk about (it was that high).
I have created a video case study and put together an email course teaching you the ins and outs of website flipping.
Get Access To The Course For Free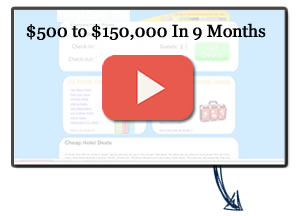 Also, after you sign up I will immediately send you the video case study where I walk you through how I bought a site for $500, fixed it up and sold it 9 months later for $150,000.
One other thing – I hate spam as much if not more than you do. Your email is only going to be used to teach you what I know about internet marketing.