Don't Buy Into The Hype, You Can Still Make Good Money
I don't watch the news. Partly because I don't have time but mostly because I don't like the way it makes me feel. I'm so sick of hearing the doom and gloom of our economy. What I have realized that it is the hip thing to say "Well the economy is down so…" or "we couldn't do this or that because of the down economy."
Honestly the more I hear it the more I think people say it because it is the thing to say. Here is a newsflash…the economy is not down in internet marketing. I have created a business model that has proven to work over and over again even in this "down" economy.
I'm not denying that things are bad for many people in many industries, the point I am making is that you don't have to submit to the idea that it is impossible to make money in this economy. I can tell you with 100% confidence that this year is going to be my best year financially ever…in fact it already is guaranteed to be so.
So how in this "fledgling" economy can I have my best year ever? Like I have mentioned  before in previous posts, I have a great system in place that allows me to acquire websites, fix them up, take home the revenue increase and eventually sell the site.
How To Make Money Flipping Websites
When people ask me what I do I always say "I flip websites". Then when they realize they didn't mishear me, they give me an "I don't get it" look and I explain that it is like flipping real estate only with websites.
I have seen alot of programs out there that supposedly teach you how to flip websites but the tactics they teach are short-term minded and the profit is minimal (in the hundreds of dollars) per transaction. My system takes a more long term approach and has allowed me to do things like buy a website for $500, spend time increasing it's value and about a year later flip it for $150,000. That's the kind of increase that I have experienced over and over again.
You Too Can Learn The Process To Flipping Websites
I have written a course on buying and selling websites that I give away for free. I always worry about giving it away for free because people tend to value things based on how much they paid for it. I really hope that is not the case here.
Do you want to learn how I make money?
If this is something you would be interested in, click the button below and I will enroll you in the course. You won't be sorry.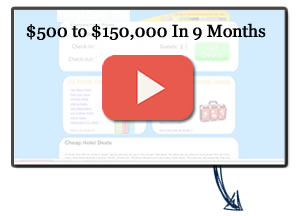 Also, after you sign up I will immediately send you the video case study where I walk you through how I bought a site for $500, fixed it up and sold it 9 months later for $150,000.
I have been buying and selling websites successfully for many years and would love to show you the ropes. Just click on the button above and I will get you enrolled.
Just one more quick word about flipping websites. I very rarely build or buy an internet business with the end goal in mind to flip it quickly.
I love to build successful internet businesses. It seems like when you do that people take notice and especially if the site is automated, people want to acquire it from you.
I do teach the ins and outs of how to flip websites for profit but what I really teach, and the real value you will get out of listening to me is how to make an internet business better. Whether it be increasing traffic through search engine optimization, or just increasing conversions on your site so you can increase revenue quickly, that is where my passion and skill set sits.
If that sounds like it is interesting to you, then click on the button and let me teach you how to become a website flipping ninja.
– Adam