Sorry about the lame rhyming title. I couldn't come up with anything more clever. Lately I have been running a split test on LawnCareDirectory's sales page to see if I could increase conversions on the page. I have run many tests before testing headlines, page layout testimonials etc.
This time I was testing the header of the page. I have a header on the sales page that has a picture of the business kit I sell and then a button to order the kit and one to sign up for the email list I have. I wanted to know if having those two buttons there was taking away from sales. So I tested taking that header out.
Here is the original header: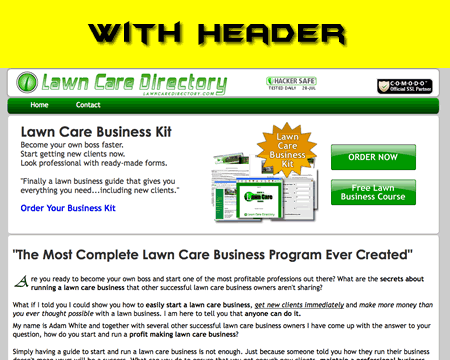 And here is the test page where I took out the header: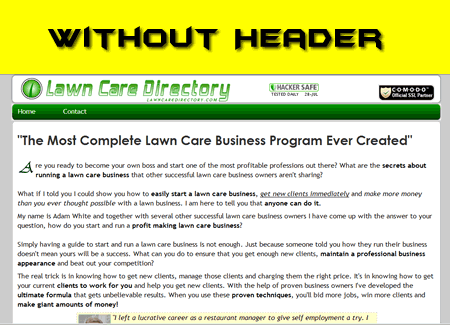 As you can see the look of the page is significantly different without the header. Personally, I don't like it as much. It seems less attractive without the header.
The visitors to my website didn't care either way. I have been running this test for 2 months and sales are almost identical with both versions of the sales page.
Lesson learned: This particular header isn't a deciding factor when people are making the decision to buy my lawn care business package.
Some people will want to say that this test was a waste of time. Even if the test page would have resulted in much lower sales it still wouldn't have been a waste of time. No matter what the result of a split test is, I am always more knowledgeable after.