I know, I know it has been a long time since I last wrote. I have been busy with filmmaking and other projects but I'm back.
Onto the good stuff…
I often run tests on pages of my site through crazyegg.com. They show you exactly where visitors are clicking on your website. It is very useful to see if your visitors are doing what you want them to do.
So on the home page of LawnCareDirectory.com I have a section that pushes people who want to start a lawn care business to a kit that I sell. I have a picture of the kit and 2 buttons one that goes to the kit and one that goes to a free lawn business course.
When I created this part of the site the button that went to the kit said "Lawn Business Kit" which I mainly did so I could fit the text on the button.
So I ran a crazyegg report on the home page and had it track about 1600 visitors to that page. Here is a snapshot of that section of the home page. The little colorful dots are individual clicks: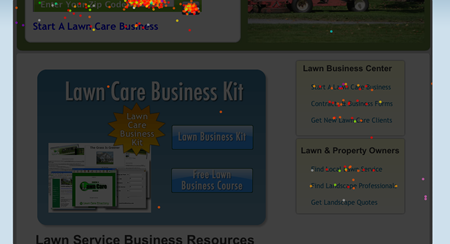 So as you can see with over 1600 visitors to the site that part of the page only got 3 random clicks not one of which was on one of the buttons.
So when I realized how ineffective that button was I knew right away why. I learned a long time ago that if you want someone to click on something you need to tell them why they should.
You need to make a call to action. Don't try to be un-intrusive with your visitors. They don't know their way around your site. They need guidance.
So I changed the top button from "Lawn Business Kit" to say "Start Your Business Now" and ran another report through crazy egg. This time I only did 500 visitors but the difference was stunning: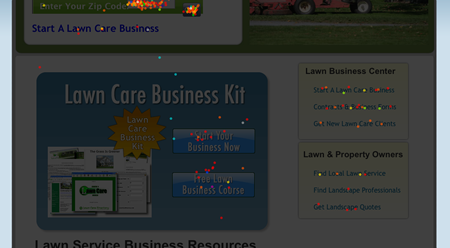 Not only did people actually click on that button, but by changing the text it also got visitors to click on the button below it as well. It's amazing what one minor tweak can do to your website's usability.
I should probably keep playing with the text on these buttons until I find what generates the most click through.