Yesterday Adam and I decided to enjoy the nice weather (65 degrees!) and golf (well, first we went to put downpayments on some scooters).  On the way to the course, this being the first time playing for the season (second time for me since I played down in Phoenix while at Infusioncon), we made some score predictions for the front nine:
Adam predicted 55.
I predicted a 43.
I was jokingly optimistic, seeing as how a 42 is the best score I've ever shot.
At any rate, here are the results: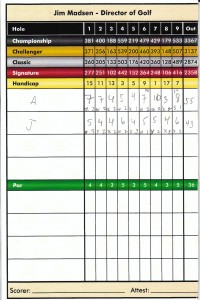 If you're wondering what the other numbers are, bottom left is the tee shot, Y means the fairway was hit, N means it wasn't.  The bottom right corner is where we record the number of putts.  You'll also see if there were any OB penalty strokes, or if we had to deal with any bunkers.  (This is content for another post entirely — tracking your progress to stay motivated and promote smarter decision making).
Speaking of bunkers, Adam had to deal with three of the four on the ninth hole.  He had his best tee shot of the day, smashing it probably 290 yards, but the ball ends up in a fairway bunker.  He hits it out of that bunker and back into the next fairway bunker down.  Then he hits it out of that bunker and ends up in the next bunker further down.  Finally he escaped the sand completely only to land in some dirt next to a bulldozer (they're renovating).  Once on the green, he one-putted for a triple.
Anyway, did you notice the final scores?
Adam: 55
Jesse: 43
Let's set aside the fact that I beat Adam by 12 strokes in nine holes, and just think about the fact that the score we specifically targeted for ourselves was the one we reached.  Adam padded, knowing it was his first time playing in several months.  Don't you find it terribly interesting that he dealt with all of those troubles on the final hole?  Maybe it was his subsconscious willing the 55 to happen.
No?
Alright, maybe that's stretching it a bit.  But it did cause me to raise a curious eyebrow.
Adam and I have very specific goals when it comes to our overall portfolio of sites.  I won't share our specific goals, but the key is in the specifics.  They are extremely specific.
If you want to start making money online, you'll need to set some specific goals.
Bad Goal: I want to start making money online.
Good Goal: I want to make an extra $300 per month online within the next three months.
(I want to shoot a 43…today.)
You can't be driven or motivated by the bad goal from above.  How will you reward yourself with the satisfaction of finally reaching an unreachable goal?  You can't. You won't.