I was just at one of the online website marketplaces and noticed this website that sold for $75k.
Anytime a website sells in the high 5 figures it gets my attention. So after a closer look let me tell you why I think one party got the better end of the deal.
The website is dogfood.guru. It is basically a website that talks about dog food recalls and does reviews etc.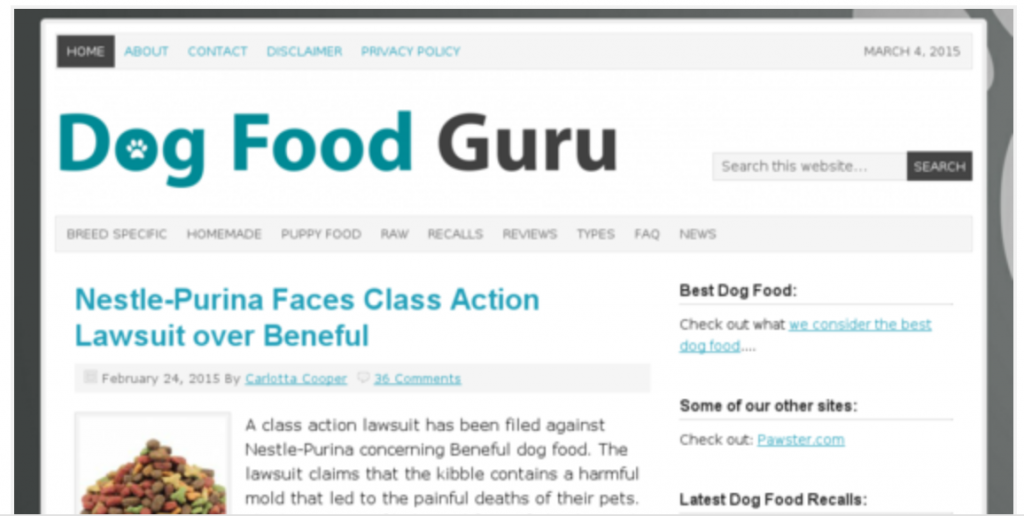 The website was started literally just a year ago. As you can see from the traffic chart here it ramped up pretty quickly.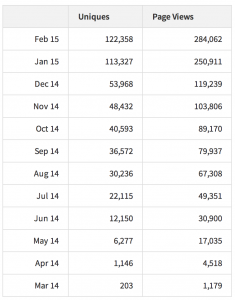 Within 5 months of starting the website is was up to 20,000 visitors a month. In case you were wondering that was really good. At the 10 month mark their website traffic doubled. Then as you can see 1 month later it doubled again.
This is not normal growth. The traffic growth of this website was phenomenal. It is rare to see a website grow that quickly being that new of a site.
First Red Flag
Here is a chart of the breakdown of traffic sources:

The most interesting thing here and my first major red flag is the site gets 86% of its traffic from search engines. It doesn't say which ones but it is most likely Google. The reason this is a major red flag is because that means there is no traffic diversity and one Google change could erase all of the traffic instantly.
Think about it. If they lost their rankings the site would go from 150,000 visitors a month to just 21,000 per month and it would be even lower than that because a lot of the direct traffic comes from people who found the site through Google.
It is a major red flag for me because this is exactly what happened to me on a site that was making $1000/day, believe me it was not cool.
I am very surprised to see how a website that is barely a year old could grow in the search results like that. If a new site can move up in the rankings that quickly, I may have to rethink my entire philosophy of buying existing undervalued websites and just start one from scratch.
I think a lot of it has to do with the fact that there probably wasn't a lot of competition in the "dog food reviews" space so it made the barrier to entry much smaller.
I just wouldn't trust that this traffic or the search rankings were going to stick with such a small amount of history. Show me that kind of traffic for 2 or 3 years, then I am much more interested.
Red Flag Number 2
The second major red flag that jumps out at me is the revenue from the site. As you can see from the chart below the site made $6800 last month.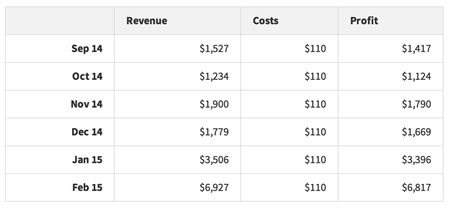 Even if I just look at the last 3 months of revenue and take an average a 10x multiple (which is pretty standard for online businesses) would be about $40k.
The buyer of the website based the multiple off of just one month's revenue history. That is a GREAT way to get yourself burned and lose a lot of money.
Instead what the buyer should have done is averaged out the 6 months of revenue data and based his 10x multiple on that, which would have been about $27,000.
Now I can understand that you have to factor in the growth of the site and how you could probably make the assumption that the site will at least hold where it is at right now and that might drive up the price a little.
That is why selling a website at auction can sometimes be the best way to go. Get different people bidding against each other based on potential.
Who knows, if this things stays where it is at or continues to grow this website could bring in $100k in a year which would be an amazing return on investment.
That is the risk the buyer is taking. They are probably much more familiar with the dog space than I am.
What I Think The Website Is Worth
If the owner of this website came to me and wanted me to buy, after looking at all of the data and the industry and looking at the revenue channels that exist in the dog food/pet space I would probably not be comfortable paying $75,000 for the website.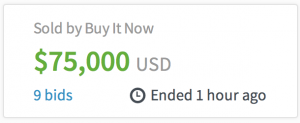 I would be much more comfortable coming in at about the $25,000-$35,000 range for this site. That way if things stay exactly as they are I can make my money back in 4 to 6 months but if in a month or two things take a dive, my risk is mitigated.
Again, the pet space is not one I have spent much time in so I would be much more risk averse on this one. If it was an industry I knew more about I might be willing to go higher.
Want To Learn More About Website Flipping?
I have been helping people quickly get started online by teaching them how to buy low priced websites for pennies on the dollar and then fixing them up so they make money fast. Get access to my email course to learn how you can do it too.