How I Bought a Website for $500 and
Turned it Into a $200 per Day Money-Printing Machine
in Less than 97 Days.How's that for a headline? I'd be scoffing as well if it weren't true.
One of the easiest ways to make money online is to buy websites at a bargain and then turn them into automated profit making machines.
What if I told you I have come up with a methodology on how to buy websites at a steal and quickly turn them into money making machines? Buying internet real estate is much like how real estate investors buy and flip or rent real estate properties the only difference is you're not dealing with a tangible building and I can teach you how I do it.
Finding The Website
After I started having a lot of success from one of the website's I had started I decided to try and purchase another website in that industry to see if we could duplicate that success. I looked for several weeks and after much research found one that fit all of the criteria I had.
The site was on page 3 of Google for one of the main terms in the industry. Looking at the site I could tell it had been neglected and with a little TLC and some good SEO I could make some dramatic improvements to the site.
Buying The Website

I contacted the owner about selling the site. We went back and forth and eventually agreed on a price ($500) that was much lower than I had anticipated. Although the site was not making any money for him, I knew the potential it had in the right hands.
SO I bought the site for $500 and did a complete overhaul, switching to a new content management system and started my SEO work. Within 3 weeks the site had paid for itself. Today, the website makes over $200 every day. That's $72000 per year from a $500 investment.
After seeing the success of this website I knew that I needed to change the way I spend my time.
I wasn't adding value to my business by writing content.
I wasn't adding value to my business by copywriting (as you can likely tell from
this page!)
I wasn't adding value to my business by doing website design.
I wasn't adding value to my business by doing the accounting.
I added value by finding undervalued websites and devising a (better)
monetization strategy, or pushing more traffic (or both).
But if you've been reading Prosperly for any length of time then you know
that I'm all about the true equation for success:


I wanted to figure out a way to make it quicker and easier to find these high value-low priced websites.
Prosperly Website Evaluation Tool
That is how Prosperly Tools came to be. Together with a top tier programmer I took all of the criteria that are pivotal to finding and quickly fixing up a website and we created several web tools that automate this process. These tools will literally tell me in minutes:
Which websites are prime candidates to purchase
How far a website is from top 10 rankings
How much traffic I can expect to get with top rankings in the websites industry
What the WHOIS information is of each prospect
How much $$ I can expect to make with top rankings
and much much more
I knew that if I could use these tools to find other prospects out there I would be able to build a portfolio of internet properties and be very successful online.
The results have been phenomenal.
Here is a snapshot of the free webste evaluation tool in action: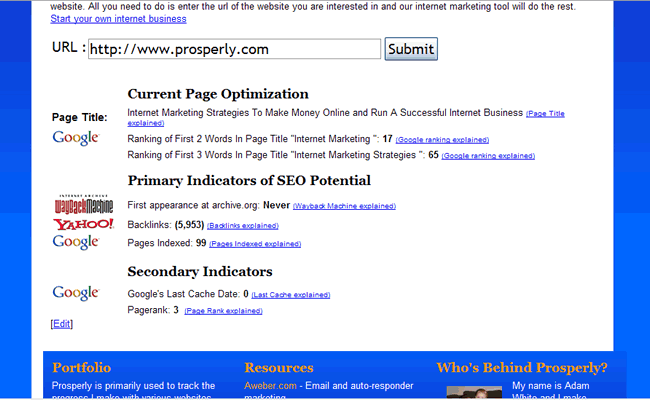 Now I'm still finding new websites to buy— but I'm also doing it the right way.
Using the prospecting tool I quickly find multiple websites that have potential. I drop them into the Website Evaluation Tool which gives me all the information I need to know and values the website for me based on my proven-to-work formula.
These Prosperly Tools (the advanced versions) aren't quite ready for the prime-time, but the tool we used as our starting point is available for use.  Drop in your email below and will give you immediate access.
P.S. Bear in mind, while the free version is extremely useful, it won't hold a candle to the advanced version.  We still just need to work out a few kinks.  I'll shoot you an email when the advanced version is ready.