A new trend in link building is to use social media to help you build link popularity to your website. As link building continues to be the hardest part of SEO people will always be looking for new ways to generate more links.
One of the new strategies is something that has been name SEO link wheels.
A link wheel works like this:
You write 10 articles all related to the keyword you are targeting in your link building.
You submit those 10 articles to 10 different article directories (ie ezinearticles.com, isnare.com etc).
In each article you place two links; One link to your site using your keyword, and the other link would link to one of the other 9 articles you have submitted to the other article directories.
Thus each article is connected to your site and to the other articles written that also link to your site and that is why they call it a wheel as you can clearly see from my awesome graphic below: :-)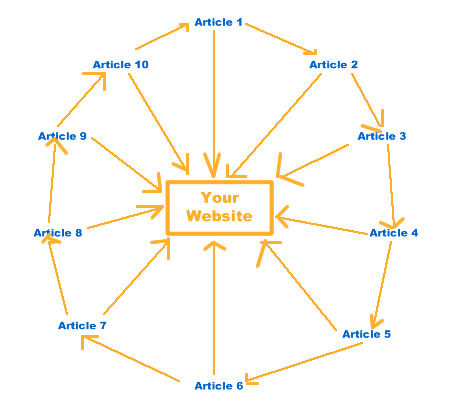 Instead of just submitting to article directories you can also mix things up by doing some blog posts with the links embedded as well as a couple of youtube videos that also link to your site and to another one of the articles or blog posts.
SEO link wheel companies swear by this approach. I tested this method out on a small scale and had a little success with it. If it is something you feel like you want to try I would recommend that you only target one keyword and choose a keyword you have not been able to rank for. That way you can see whether or not the thing is working or not.