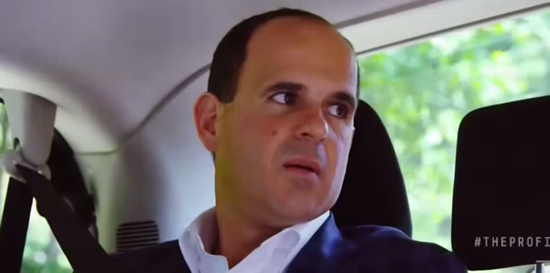 If you haven't heard about the runaway hit show "The Profit" on CNBC then you must have been living off planet for the last 12 months.
The show stars business tycoon Marcus Lemonis who travels around America investing in struggling small businesses and then waving his magic wand and poof! the businesses seem to magically become successful.
It actually is pretty friggin awesome.
But here is why I say that "The Profit" is the worst show on TV.
I'm a busy person, I have a wife and 6 kids, I run my own internet company, I write and direct movies, and to relax I watch a little TV on the weeknights. You know, brainless shows that allow me to unwind and ponder the mysteries of the universe.
That is until I discovered this new little aforementioned show "The Profit". My life has never been the same since.
And so Marcus Lemonis, I ask you:
How dare you make a television show that makes me tear up like a baby way more often than I am comfortable with? I personally don't like crying but I admittedly am a sympathetic cryer when people have something amazing happen to them. I can't stand the raw emotion.
Do you know how hard it is to hide the tears welling up in my eyes from my wife so she doesn't make fun of me? Is that what you wanted when you made this show? Would you please be a little more sensitive (pun intended) to how that is affecting me?
Secondly, mentally at 9pm or 10pm at night I am not prepared for a television show that will inspire and motivate me to want to get up immediately and figure out how to make my business (and every business) more profitable. At that hour, I'm trying to wind down and your show has the opposite effect. It's like eating a whole key lime pie after you already had a half dozen cupcakes. Oh and guess what? The teary eyes add to my exhaustion so you tire me and motivate me at the same time. What's up with that?
But that isn't the worst part. How dare you create a show that gets my wheels turning so badly that I lie in bed at night and scheme about all of the ways I can fix this struggling diner that I ate at earlier in the day?
I toss and turn. Should I ask them about their Process? Should I tell them where their Product needs to improve? How much could I increase their profits just by making changes X, Y, Z? Should I talk to each employee (their People) and see what they think about the company? Should I approach the owners and make an offer? What would Marcus do? I'm trying to sleep man!
Have you no respect for a person's physical and mental health? I've got enough on my plate with my online business that helps Shopify store owners and SaaS companies track revenue on every button and link on their website and yet after watching your show religiously I find myself thinking about fixing every brick and mortar business I visit.
Why can't I walk into a business and stop myself from thinking, "I could be like Marcus Lemonis. He's the most amazing business person I have ever seen. He would want me to invest in this gym that has no customers…"? I hold you responsible.
I don't know what can be done. I don't know how I'm going to sleep at night.
Maybe I will just go back to watching "regular" business reality shows that teach me that blowing up beaver dams in the forest and wearing camo to the office is all part of a good day's work. Now that is night time TV.
Now I know you're saying, "why don't you just DVR the show and watch it in the morning?" Oh yeah, that's a good idea, start off the day getting possessed by the idea of fixing someone else's business. I think I would be really productive that day.
All I can say to you Mr. Lemonis is, thank goodness for the off season, when I can actually stay focused on my own business and get some work done.
Worst. Show. Ever.
Seriously though, it's really good.
Now…what time does Outdaughtered come on? (I'm asking for my wife, I swear.)
About The Author


Adam White is the founder of SquidVision, one of the coolest CRO tools that lets you see how much revenue every single link and button on your website generates. He is an avid fan of "The Profit", he has worked in the internet marketing world since 2000 and has written and directed two feature films. He lives in Arizona with his wife and 7 children.